Welcome to Ota Floriculture Auction
English web page!
NAMAHAGE Dahlia Selection – General Election 2021
Period: Sept 27th – Oct 1st
Organizer:Akita prefecture
Akita prefecture cooperates with Akita Kokusai Dahlia Park to develop "NAMAHAGE Dahlia" which is the original variety of Akita prefecture. We exhibited the varieties developed by Akita Kokusai Dahlia Park at the central passageway and the wholesale street, which are not released (varieties that have not been commercialized). After the beauty contest voted by users and visitors of OTA market, 10th generation members has debuted in this 11th year.
✤10th generation members NAMAHAGE✤
Based on the election results of last year, these varieties, NAMAHAGE LOVE & NAMAHAGE PEACE, are debuted this year.
Thank you everyone who cooperated in voting at the venue and online!
★Here you can find the NAMAHAGE Dahlia candidates aiming to debut in 2023‼
✤1st–9th generation members NAMAHAGE✤
These NAMAHAGE series are already available at our market!!
All generation members from the 1st got together as a group this time too♪

Thanks to the basket arrangement in the center, the venue was transformed with gorgeous atmosphere‼
The basket arrangement in the center was again made by Maison de Blanc Ms Shiraishi Yoriko, alongside Ms Yasui Naomi who is chairing the flower and food salon "Blanche", this year.

The candidates for the 12th generation, will be chosen from specially selected varieties undergoing a one year growing trial. Please look forward to it♩♬♪
Redleaf rose, Rosa glauca from Kita-Sorachi Kouikiren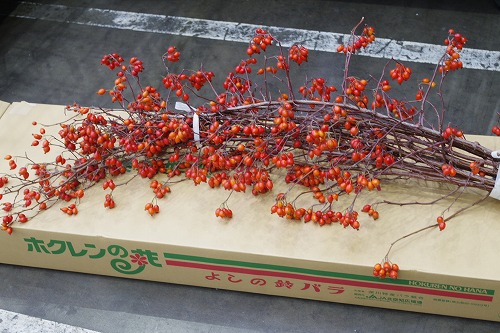 Today, we would like to introduce redleaf rose, Rosa glauca from Kita-Sorachi Kouikiren (regional federation of agricultural cooperatives), Hokkaido.
Since the beggining of this month, redleaf rose has been available shipped from Fukagawa city, Hokkaido, where redleaf rose is one of the local specialities.
Eight growers make a lot of effort and try to supply stable amount of the seasonal cut-tree branches, although the producton amount is decreasing due to the aging problem.
This year, it densely bears vivid-red berries. As the supply is expected to decrease gradually from the peak season right now, we recommend you to have a try asap.
Kita-Sorachi also brings autumn-colored hydrangeas, spiraea japonica, symphoricarpos and so on to our market.
By all means, please grab redleaf rose and other seasonal cut-tree branches from Kita-Sorachi!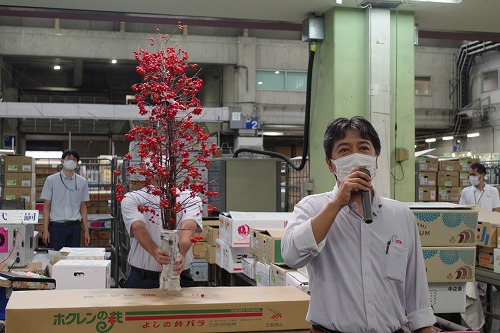 Originally posted by Mr. Ishizuka
Translated by R.Kato
Akita Obako Agricultural cooperative "The Disbud Mums"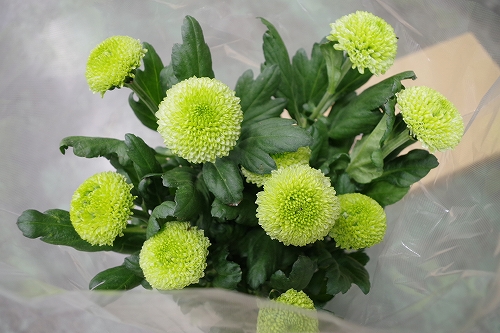 Today, we would like to introduce the Disbud Mums cultivated by Akita Obako Agricultural cooperative. Currently, only one producer from the cooperative brings those Disbud Mums to OTA. It is located in the cool highland, so the cultivating period is longer than the one for other items and the producer has to make a lot of effort to grow good quality Disbud Mums. The main varieties of Disbud Mums are feeling-green, golden-ping pong and super-ping pong. The trade will start from the next auction date with limited amount. Give it a try and enjoy its vivid color and long vase-life!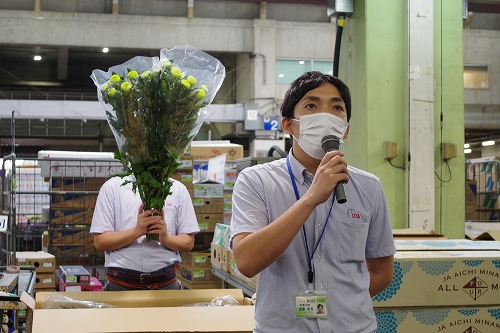 Original article written by Mr. Saito, translated by Iwashita
Period: 12-16 July
Host: Flower Grower's Liaison Council of Shonai
(Cosponsored by Shonai JAs and ZEN-NOH Yamagata Prefectural Headquarter)
Growers: JA Shonai Tagawa, JA Shonai Midori, JA Amarume, JA Sodeura
Items: Oriental lily, Dahlia, Lisianthus, Limonium sinensis
We introduced the representative varieties from Shonai from around Summer to Fall, during their shipping peak season.
✤Messages from growers:
☟We are pleased to introduce messages from growers in the video !!
Please do have a look!♪
✤Let's enjoy feeling the changing of the season with the flowers from Shonai.
Plenty of flower varieties are cultivated in Shonai region, reaching 30% of share among all flowers produced in Yamagata prefecture. The diversity comes from rich varieties of terrain, such as intermediate-mountain areas at the foot of Mt Chokai and Mt Gassan, the flat land of the Shonai Plain and the sand dunes near the sea.
Especially, stock, lisianthus and lily are main items in Shonai region, accounting for more than half of the production in prefecture.
In addition, they cultivate flowers that color your life throughout the year, such as Japanese spray mum, celosia and Keio-sakura (cherry blossom).
✤Calla・Oriental lily
✤Dahlia 
✤Lisianthus 
✤Limonium sinensis・Delphinium
✦Chrysal professional 2 is given to the water of displayed items.
TS Mericlone CO. Ltd.✦cherry blossom collection
Grower:TS Mericlone CO. Ltd.
Family:Limonium sinensis (cherry blossom collection)
Period:17-28 May
We displayed the cherry blossom collection of Limonium sinensis which has many different colors, each having some subtle differences in color, light and shade. Few flowers fall and it lasts for a long time.
These double-petal varieties bloom like lumpy rice grains at the early stage of blooming, and as they bloom further, they become fluffy spheroidal petals!!
You can enjoy different views depending on when you see them.♪♫♩
These can also be enjoyed as dried flowers.
✤TS Mericlone Co. Ltd is a nursery located in Yamanashi prefecture. Through meri-clone technology they provide an improved statice nursery plant to growers all over Japan.
Please take a look at Limonium sinensis which receives abundant sunlight in Yatsugatake,
so it grows energetically on the test fields.
Photos show both the whole flowers and a close-up of the flowers.☟☟☟
✤Variety introduction:
Mericlone means:
A plant that has been cloned via meristem propagation.
✦Chysal professional 2 is given to the water of displayed items.