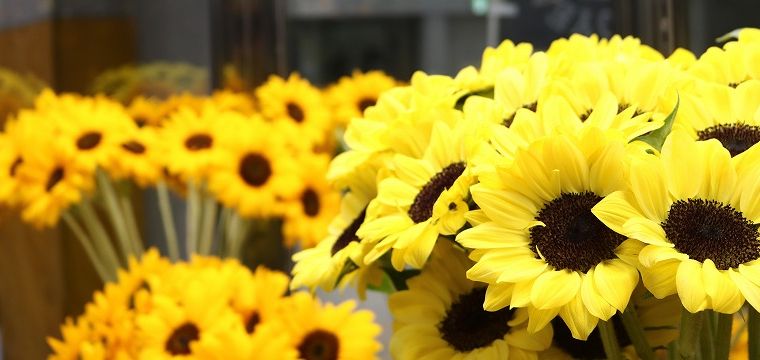 Welcome to Ota Floriculture Auction
English web page!
Rubus and "Baby Hands" cut branches from Hokkaido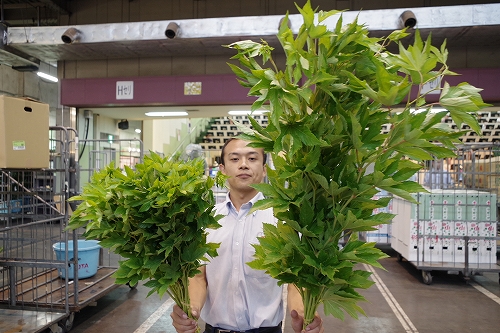 Today we will introduce Rubus cut branches and the "Baby Hands" from Hokkaido. 
Rubus cut branches from Hokkaido are characterized by a smooth-textured leaf surface compared with the ones from other places. The "Baby Hands" is originated from and a registered variety in Hokkaido as mutant varieties of native species, and is now also produced in Miyazaki and Kagawa prefectures.  
 "Baby Hands" from Hokkaido has shorter internodes than native species with small and bright yellowish green leaves. The small and fresh–colored  young-look leaves are just as cute as baby hands! 
Rubus is cultivated at JA Kita Ishikari, JA Sapporo East Keizai Center, JA Sapporo West Keizai Center, and "Baby Hands" is at JA Kitaishikari, JA Kitasorachi and KitanoJunjo Club until autumn when leaves turn to red and yellow in November. High quality produces can be expected this year, thanks to good weather and good control of pests. 
Original Article written by Mr. Orikasa,
Translated and edited by R. Kato
Smoke Tree from JA Ehime Chuo
Today we are offering Smoke Tree (Cotinus coggygria) from JA Ehime-Chuo in Ehime prefecture.

At JA Ehime-Chuo, the growers never harvest Smoke Trees in an early (stiff) stage, but wait for them to be as fluffy as they can. Plus, the growers try their best to enhance the natural color of them like white or green.
From now on, the supply of Smoke Trees is expected to continue towards the end of June with the variety of "Red Fur" and "Peach Fur" mainly, and some Green types too. Later on, we will be receiving Smoke Trees from Yamagata and Aomori prefectures as the production area goes up to the north of Japan.
Smoke Tree has been recently getting a lot popular overseas especially in other Asian countries.
Please don't miss these early-summer items from JA Ehime-Chuo that are of great quality!
Original Article written by Mr. Ikegami,
Translated and edited by S. Yamamoto