Welcome to Ota Floriculture Auction
English web page!
Period: 12-16 July
Host: Flower Grower's Liaison Council of Shonai
(Cosponsored by Shonai JAs and ZEN-NOH Yamagata Prefectural Headquarter)
Growers: JA Shonai Tagawa, JA Shonai Midori, JA Amarume, JA Sodeura
Items: Oriental lily, Dahlia, Lisianthus, Limonium sinensis
We introduced the representative varieties from Shonai from around Summer to Fall, during their shipping peak season.
✤Messages from growers:
☟We are pleased to introduce messages from growers in the video !!
Please do have a look!♪
✤Let's enjoy feeling the changing of the season with the flowers from Shonai.
Plenty of flower varieties are cultivated in Shonai region, reaching 30% of share among all flowers produced in Yamagata prefecture. The diversity comes from rich varieties of terrain, such as intermediate-mountain areas at the foot of Mt Chokai and Mt Gassan, the flat land of the Shonai Plain and the sand dunes near the sea.
Especially, stock, lisianthus and lily are main items in Shonai region, accounting for more than half of the production in prefecture.
In addition, they cultivate flowers that color your life throughout the year, such as Japanese spray mum, celosia and Keio-sakura (cherry blossom).
✤Calla・Oriental lily
✤Dahlia 
✤Lisianthus 
✤Limonium sinensis・Delphinium
✦Chrysal professional 2 is given to the water of displayed items.
TS Mericlone CO. Ltd.✦cherry blossom collection
Grower:TS Mericlone CO. Ltd.
Family:Limonium sinensis (cherry blossom collection)
Period:17-28 May
We displayed the cherry blossom collection of Limonium sinensis which has many different colors, each having some subtle differences in color, light and shade. Few flowers fall and it lasts for a long time.
These double-petal varieties bloom like lumpy rice grains at the early stage of blooming, and as they bloom further, they become fluffy spheroidal petals!!
You can enjoy different views depending on when you see them.♪♫♩
These can also be enjoyed as dried flowers.
✤TS Mericlone Co. Ltd is a nursery located in Yamanashi prefecture. Through meri-clone technology they provide an improved statice nursery plant to growers all over Japan.
Please take a look at Limonium sinensis which receives abundant sunlight in Yatsugatake,
so it grows energetically on the test fields.
Photos show both the whole flowers and a close-up of the flowers.☟☟☟
✤Variety introduction:
Mericlone means:
A plant that has been cloned via meristem propagation.
✦Chysal professional 2 is given to the water of displayed items.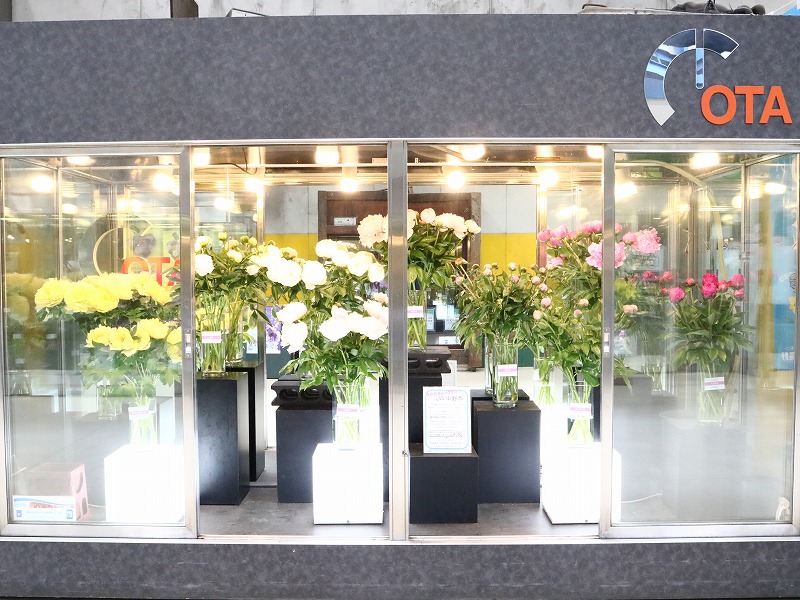 Item:Peony
Growers:JA nakano-shi (Nagano Prefecture)
Now is the best season! Today we would like to introduce peonies of JA Nakano -shi, Nagano prefecture that are now at the peak of harvest for their outdoor cultivation.
✤Enjoy full bloom
Their peonies can bloom large and maintain high-quality because they nourish nursery stock for as long as five years after planting. In addition, they can determine the best timing to harvest the peonies so that they can deliver "peony that can bloom to last in full"
✤How to hydrate peonies
Peony may have sticky nectar on the flower buts.
Because the flower nectar restrain flowering, so you need to wash away the nectar firstly  and cut the bottom of stem in the water for better water uptake. In addition, peonies have large leaves that transpire a lot, so we suggest that you should take off some leaves for long vase life.
To rehydrate peonies, please check movies on our Instagram. ♪
✤Let's enjoy the fragrance of peony!
Peonies have a fascinating bloom shape, but also have rich fragrance. You can enjoy the fresh fragrance only with a single stem of peony, but if you combine it with other fragrant flowers like roses or herbs, you can increase the effect of fragrance even more!
Why don't you try this wonderful flower? ♪
✦Chrysal professional 2 is given to the water of displayed items.
Translated by Y. Fuchu
Kunieda Rose Garden "Victorian Pink +"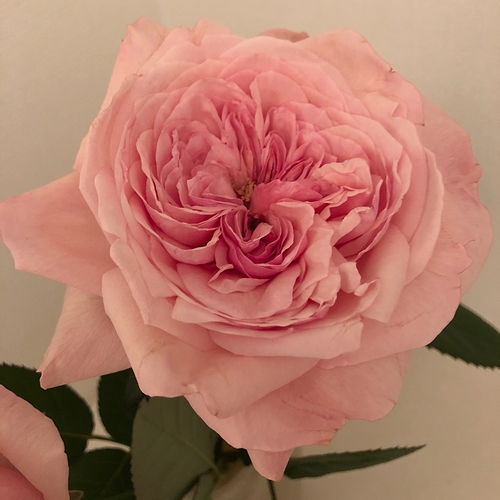 Today, we would like to introduce the rose "Victorian Pink +" cultivated by Kunieda Rose Garden in Shiga Prefecture.
Kunieda Rose Garden is not only a farmer but also a distributor of Dümmen Orange in Japan, and cultivates roses in a place close to the Lake Biwa, the largest lake in Japan.
The blooming form of this flower is a beautiful rosette type, and as the blooming progresses, the inner petals change its color from beige pink to pale pink. Although its aroma is weak, it blooms slowly, and you can enjoy vase-life for a relatively long time.
Why don't you use this rose for the May rose season?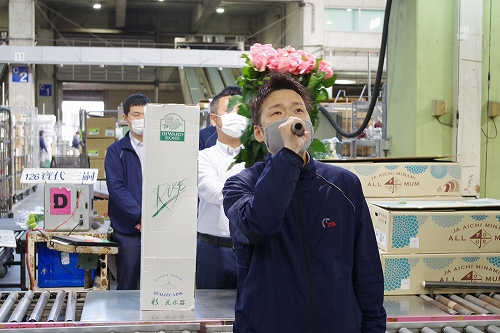 Original article written by Mr. Hayashi, translated by Fuchu
Belated Congratulation and send wishes with flowers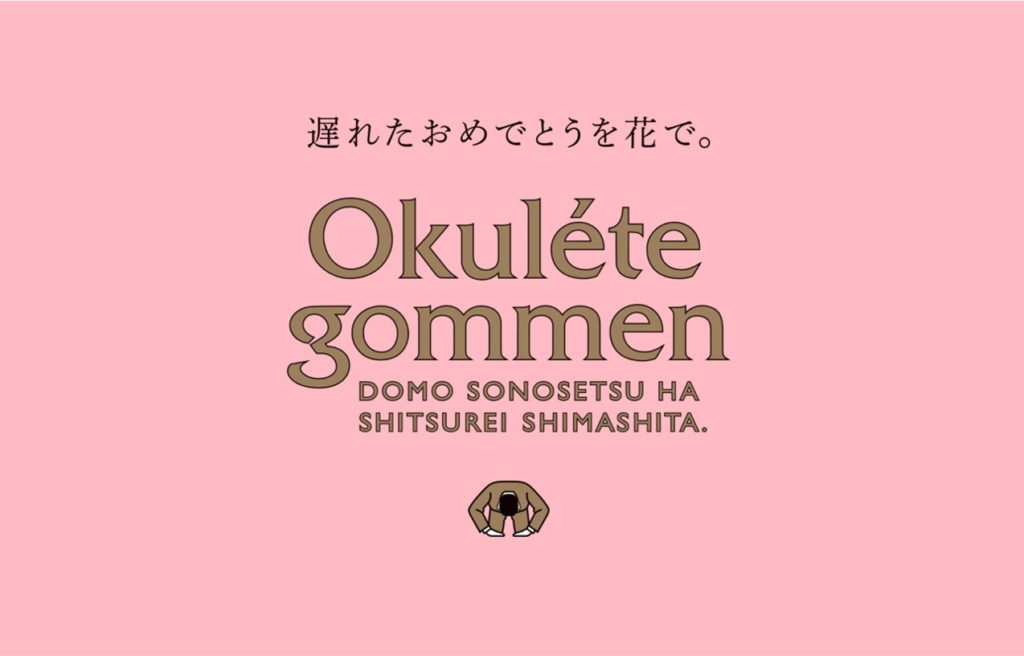 The Japan Flower Promotion Council, an association of all flower supply-chain partners, has proposed a new flower gift promotion project to consumers. We are one of the members and our CEO plays the presidential role.
"Okulete gommen", meaning "Sorry, I am late", is a promotion project to celebrate belated birthday, marriage, baby-birth, graduation, school-admission and more!
If you missed the opportunity to celebrate someone, we suggest you to create an opportunity to convey your feeling of celebration by making an excuse of presenting a gift of flowers.
◆Okuléte gommen Offical site:
https://nippon-fc.jp/hajimetehanaya/okuletegommen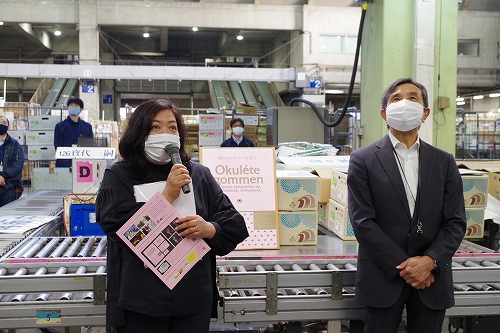 This time, the Council has released "Okuléte gommen short film" with the theme of "Belated Congratulation and send wishes with flowers".
The comedy trio "Hanako" as an ambassador of the Okuléte gommen project appears on the film and talks about the story of delivering a bouquet of "Belated Congratulation" to their loved ones. It is a heartwarming documentary film where presentees make smile with unexpected flower gifts, and presenters also make smile when seeing presentees' smile.
◆Okuléte gommen short film:
https://www.youtube.com/watch?v=1vD0t_qvnQg
We, as the flower industry, would like to propose to consumers that "it is not too late even if the days have passed", "everyone will be happy when receiving flowers", and "let's convey your feelings with flowers".
We try to create an opportunity to let consumers feel closer to flowers for the younger generation who doesn't have needs to go to a flower shop or who has no experience of giving flowers to others.
Translated by Y. Fuchu