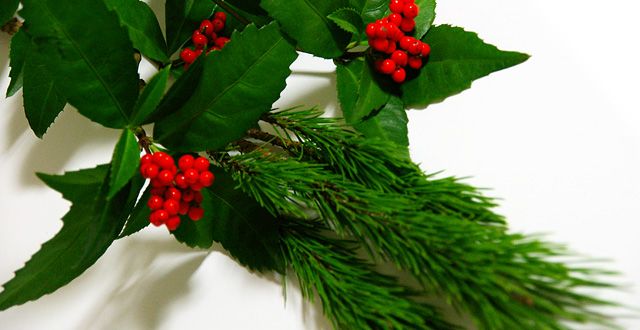 Welcome to Ota Floriculture Auction
English web page!
Cut pine tree auction 2018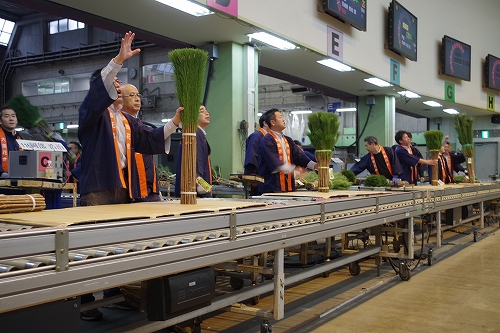 Annual Cut pine tree auction was held on November 9, Sunday at 7 AM.
Click here for Cut pine tree auction 2017.
The entire amount of production has decreased due to the high temperature in summer and many typhoons this year. Plus, shortage of workers is still a severe problem including the fact that many workers are getting older.
Some of the growers therefore have been struggling with not being able to ship enough number of products. Especially longer types have been less shipped year by year, since some certain types of pine trees like "Karage matsu", which is relatively short grown after only three years of cultivation, are getting demands nowadays and thus being more shipped.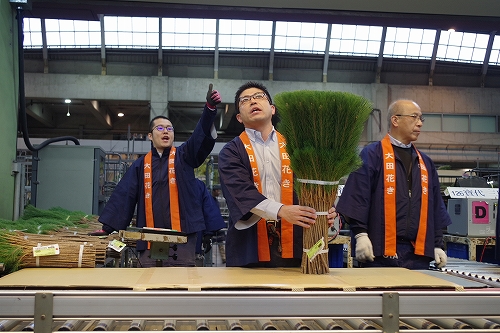 Although the extreme heat of this summer caused "Nebiki matsu" damped off or bad effects, thanks to growers' extraordinary work we were able to offer great pine trees both quality-wise and quantity-wise.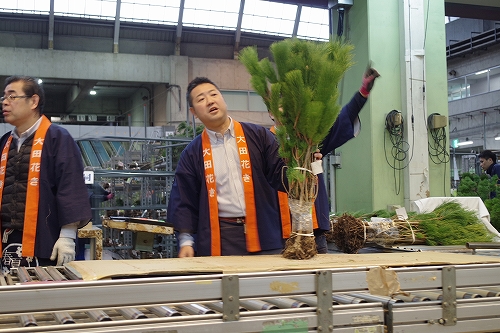 "Daiomatsu" and "Goyomatsu" were also affected by the typhoons, but we tried our best with collection for the auction.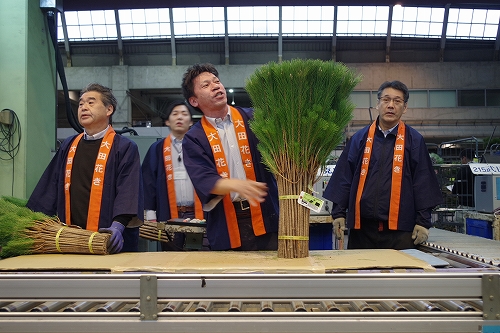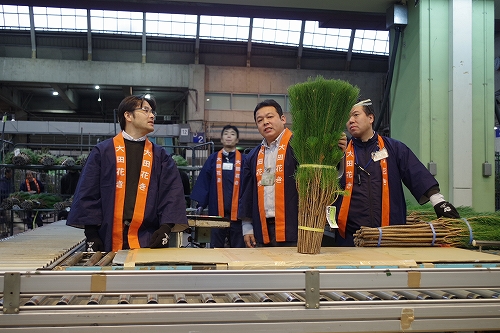 Next week on Sunday, December 16 we have another annual auction of "Senryo", "Kokematsu" and "Kokeume".
Click here to check the last year's article.
Original article by Mr. Takeda, translated by S. Yamamoto
Japan Flower Selections
2018-2019 Fall Competition for Cut Flower
Host: Japan Flower Selections Association
✤Japan Flower Selections (JFS) is…
the standardized variety contest in Japan with the concept of "New standards for excellent flowers," hosted by Japan Flower Selections Association, and it was started in the spring of 2006. Those excellent varieties that truly can be recommended to consumers are selected from among the domestic and overseas new breeds.
On November 5th, experts in the Japanese floriculture industry like knowledgeable people, distributors, retailers, designers, etc. made fair judgments to choose the excellent varieties.
Here, we will firstly introduce the varieties prized ♔"Best Flower" as well as special prizes, besides the commentaries of those recipients.
✤Gloriosa "ZEN"
♔"Life Design" prize
Promoter: Mr. Takashi Fujii
What is unique to this variety?
➀ Its vase life is twice longer than other large-red varieties.
➁ It has numbers of buds and most of them bloom. (Each stem gets 6-8 flowers)
➂ Its stems are so firm that they cannot be bent easily.
✤Chrysanthemum "White Kagari-petal "
♔"Breeding" prize, "New Style" prize
Promoter: Aichi Agricultural Research Center, Higashi-Mikawa Branch
This is a rare variety that has pointy petals with serrated edges called Kagari-petal. Since this gives an impression of gorgeous, it can be used for many occasions such as weddings or flower arrangements.
✤Rose "Sea Anemone"
♔"Most Joyful" prize, "New Value" prize
Promoter: Keisei Rose Nurseries Inc.
Its large, unique wavy petals make this variety eccentric as well as pretty and beautiful. This variety got her name Sea Anemone by its beautiful appearance which reminds of a colorful Sea Anemone breezing in the tropical sea.
Next, we will introduce all the prize (including special prize) winners!
*****
Promoter: Asukaen Co.,Ltd.
Item: Celosia cristata (Bombay)
➊Asuka Select; "Special Green"
This sleek green gives an impression of fresh. It can be used with any other items, as it adjusts the design up and contributes to the entire harmony.
➋Asuka Select; "Pink Lady"
This sleek pink is pretty and impressive. It has big glossy waves so it stands out in arrangements uniquely.
➌Asuka Select; "Pao Pao" ♔"Color Create" prize
This greenish pink catches peoples' eyes and its wild texture stands out uniquely. This color, which is similar to Hydrangea's, is useful in that it goes well with other items.
*****
Promoter: Sumika Agrotech Co.,Ltd.
Item: Lisianthus
➊ "Celeb Chrystal"
This variety stands out gloriously because its flowers in pure white are bigger than any other types' and they are full of frills. Its stems are firm and easy to take care of, while all the blooms stay equally on top.
➋ "Celeb grape" ♔Good Performance" prize
Its flowers in reddish lavender with a lot of frills are large and very gorgeous. They have firmer petals compared to other large lavender varieties so that this variety has a longer vase life.
*****
Promoter: Bara Kobo Patio Rose
Item: Rose
➊ "Chardonnay"
Its characteristics are: round flower, thick stem, and the vase life is long. Plus, this shape of flower is a new one.
➋ "Strawberry macaron"
Its vase life is long as its cup shape lasts for a while, and it gets a lot of flowers.
*****
Promoter: Inochio Seikoen Inc.
Item: Chrysanthemum
➊ "Sei Comyn Orange"
This can be used in various ways for its middle size and decorative shape. This radiant orange can be appropriate not only in fall but in all seasons.
➋ "Sei Marletta"
Its vivid, rich red petals are layered well to give an impression of chic. As this does not get easily affected by the heat of summer or fall, you can use it for ornaments from fall to winter.
➌ "Sei Rewind Sun" ♔"Japan Design" prize
The name "Rewind" literally means winding back, as its flowers get wound back and change their shapes on the way to bloom, so you can enjoy this for a long time.
✤"Flower of the Year" prize will be announced on December 5th!
Among the prized varieties of Japan Flower Selection 2018-2019, the honored "Flower of the Year" prize, "Best Flower" prize, and special prizes will be selected. The ceremony will be held at Yayoi Auditorium (Ichijo-Hal), the University of Tokyo.
Please find the details on their official website.
✦Chrysal professional 2 is given to the water of displayed items.
Interpreted by S. Yamamoto
Promoter: Sakata Seed Corporation
Grower: JA Shinsunagawa
Item: Helianthus annuus (Sunflower) "Vincent's series"
Flower design: Ms. Keiko Ueno, Liberte Inc.
Another recommendation for Halloween!!
We displayed the series of "Vincent" by Sakata Seed Co. this year too.
The showcase this year got full of the Halloween arrangements in chic modern black that were made by Ms. Keiko Ueno of Liberte Inc.
"Vincent" was named after the Vincent van Gogh, who put his soul into his works of Sunflower.
The type of the Vincent for this time was "Vincent (Type 2) Navel", and its color is warmer among the series. This is why it goes very well with the color of pumpkins so is suitable for decorations in Fall like for Halloween. The cute shape with its multiple round petals is even great for enjoyable Halloween.
The flowers of Vincent's series are also looking up that are definitely handy for bouquet arrangements!!
Let's have fun with Helianthus Vincent in Halloween!
Translated by S. Yamamoto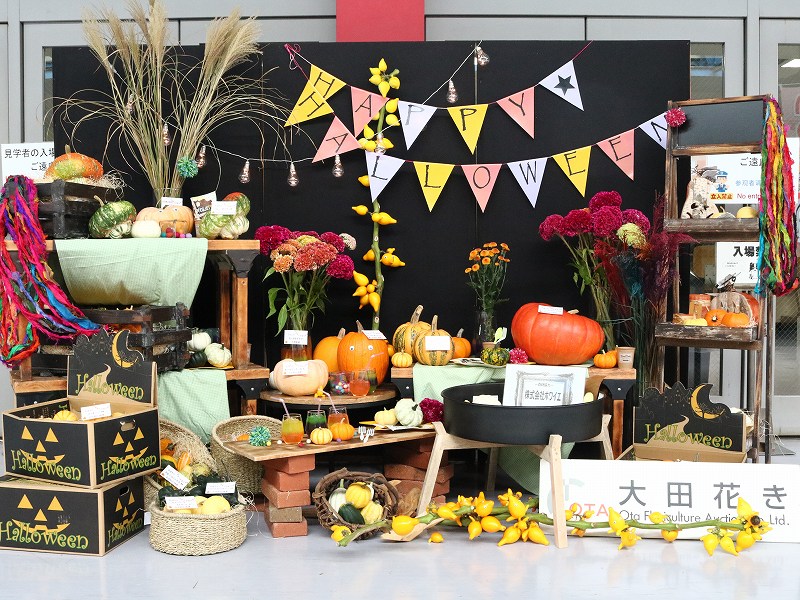 Grower:
Grower's Cooperative of Kita-sorachi, JA Awatoyofusa, JA Aagatsuma-Ryugahana, Mr. Shigeo Ohno, Mr. Soichi Shinkai, Miyabi-Kaen
Item:
Pumpkin, Solanum mammosum, Spray mum, Japanese pampas grass, Panicum virgatum, Celosia argentea, Celastrus orbiculatus, etc.
Material supplier: foyer, EcoJelly
From September 11th to 28th, we displayed special items for coming Halloween festivals. Not only Pumpkin, which comes the first as a Halloween item, we also displayed other autumnal fruiting branches, and even ornamental materials for creating its ambiance.
Halloween as a fall event, is recently very much popular than ever before in Japan.
It is officially on October 31st as everyone knows, though here in Japan it is celebrated commonly from September!
People here seem to enjoy Halloween in many ways like playing in the costume parades, joining in Halloween festivals held in theme parks, or having a home party with friends.
For such parties, interior goods, cute snacks, or other ornaments to make a good atmosphere are being popular.
So this year, we made a display at our market with the concept of "Glamping de Halloween party." ☺♫♫♪
Furthermore, we held our seasonal event "Pumpkin Auction" on September 24th. It was the 22nd time as of this year.
During the Pumpkin Auction, disguising trending people is an annual event so for this year, one of the latest Japanese comedians Hyokkorihan, and the tennis player Naomi Osaka showed up.
Literally at the Pumpkin Auction, various pumpkins were auctioned including the tiny little pumpkins called Omocha-Kabocha that can fit in your hand, and the big pumpkins that are so hard to lift up even for large men.
You can watch the time-lapse of the Pumpkin Auction on our Instagram.

Please check it out!
✼✼✼Items offered✼✼✼
-From Grower's Cooperative of Kita-sorachi 北空知広域連 
✼Omocha-Kabocha<Approx. 10-15 cm in diameter>✼
✼Middle – Large <Approx. 20-40 cm in diameter>✼
✼Large <Approx. 25-30 cm in diameter>✼
-Bouffier(white/red label)
-Branches, Flowers, and Flowering Plants of fall 
We hope you will enjoy Halloween in your way and be grateful for the good harvest of fall♪♪♪
Interpreted by S. Yamamoto