Welcome to Ota Floriculture Auction
English web page!
Host:
Grower: Mr. Aoyagi Toshiharu, JA Shin-Hakodate/Tsukigata, Hokkaido
             JA Tozai-Shirakawa, Fukushima-prefecture
             Mr. Oki shinichi, JA Agatsuma, Gunma-prefecture
             Yamaki flower garden, Chiba-prefecture
             Hamamatsu PC GERBERA, Shizuoka-prefecture
             JA Himawari, Aichi-prefecture
Items: Dianthus caryophyllus (Spray), Alstroemeria, Eustoma grandiflorum, Dahlia, Rosa, Helianthus annuus, Gerbera, Gentiana, Ammi majus
We displayed the flowers from growers that satisfied the criteria for Relay Freshnes.
✤What is Relay Freshness?
It is a certificate system that evaluates measures for extending vase-lives of flowers. It lays down the quality control criteria and certifies high quality when the criteria are satisfied.
Even if a grower makes flowers of great quality, it is not possible to "relay" the great flowers to customers without the appropriate control in supply chains like at a wholesale market or a shop.
By this reason, the entire flower industry aims to enhance awareness of extension of flower vase-lives.

↓These are the labels of each section.
Farm section

Market section

Shop/Retail section

✤Points to be evaluated at retailers
In order to evaluated whether flowers are treated in a clean environment, and their quality is appropriately controlled, the following points are checked.
➀Shop ➁Water rinsing ➂Container ➃Workplace ➄Storage ➅Spending days ➆Condition of transport ➇Customer service

The followings are the examples of each criteria.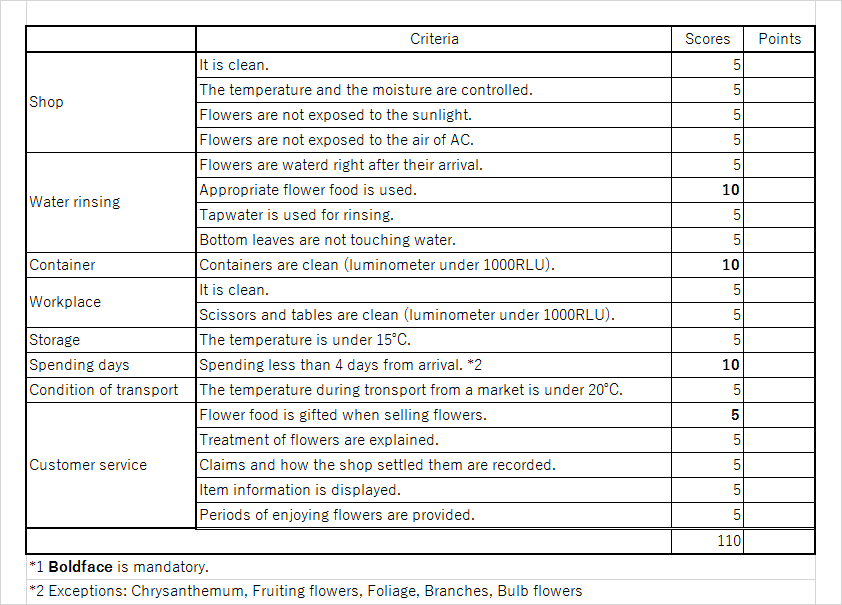 Please find the details on 
.

✤Displayed Items
JA Shin-Hakodate
Dianthus caryophyllus (Spray)
Alstroemeria
Eustoma

JA Himawari
Rosa

Tsukigata Mr. Aoyagi Toshiharu
Ammi majus

JA Agatsuma Mr. Oki Shinji
Gentiana

Yamaki flower garden
Helianthus annuus
JA Tozai-Shirakawa
Dahlia

Hamamatsu PC GERBERA
Gerbera

Translated by S. Yamamoto
FMA: A proposal of new standardization
Association for matching between Supply and Demand in flowers(FMA): A proposal of new standardization
OTA Floriculture Auction organized "Association for Matching between supply and demand in Flowers (FMA)" together with 40 supply-chain partners including growers' cooperatives, wholesalers, flower-processing companies and retailers from all over Japan. New standards ("Smart-flower standards") have been formulated to promote distribution of Japanese domestic cut flowers which can match with the actual usage of flower-processing companies (bouquets maker). Associate partners of FMA cooperate to implement the plan, and hopes that their activity will eventually contribute to strengthening international competitiveness of Japanese domestic cut flowers and to increasing profitability of cultivation among Japanese growers.
 In recent years, a share of sales from retailers increases more and more, who handle ready-made bouquets. The trend goes in tandem with the development of "regular-price products" by diversification of selling styles. In addition, there have been changes in demand for items and required standards of flowers used in funerals. However, the current situation of domestic flower production and supply-chain cannot cover those changes. These mismatches are causing confusions at markets.
In order to solve these problems, we OTA Floriculture Auction, as the largest flower wholesale market in Japan, have established FMA participated by growers'cooperatives, wholesalers, flower-processing companies and retailers. All flower supply-chain partners join forces toward this issue, and try to have an agreement for the common policy of production and sales to meet final consumers' demand.
And this time, FMA announced new standards for basic assortment of cut flowers, after a number of discussions and verifications. FMA positions those new standards as standards for expansion of domestic flower cultivation, improvement of growers'net income, activation of retailers, and expansion plus cultivation of flower consumption under stable supply. That is because FMA believes such an effort will contribute to expansion of stable production and distribution of cut flowers targeted at processing companies who know the actual usage of retailers.
Interpreted by Y. Fuchu
Rubus and "Baby Hands" cut branches from Hokkaido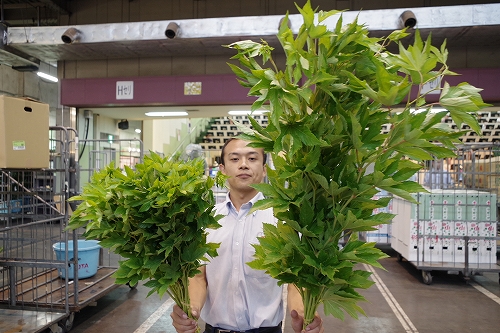 Today we will introduce Rubus cut branches and the "Baby Hands" from Hokkaido. 
Rubus cut branches from Hokkaido are characterized by a smooth-textured leaf surface compared with the ones from other places. The "Baby Hands" is originated from and a registered variety in Hokkaido as mutant varieties of native species, and is now also produced in Miyazaki and Kagawa prefectures.  
 "Baby Hands" from Hokkaido has shorter internodes than native species with small and bright yellowish green leaves. The small and fresh–colored  young-look leaves are just as cute as baby hands! 
Rubus is cultivated at JA Kita Ishikari, JA Sapporo East Keizai Center, JA Sapporo West Keizai Center, and "Baby Hands" is at JA Kitaishikari, JA Kitasorachi and KitanoJunjo Club until autumn when leaves turn to red and yellow in November. High quality produces can be expected this year, thanks to good weather and good control of pests. 
Original Article written by Mr. Orikasa,
Translated and edited by R. Kato
Smoke Tree from JA Ehime Chuo
Today we are offering Smoke Tree (Cotinus coggygria) from JA Ehime-Chuo in Ehime prefecture.

At JA Ehime-Chuo, the growers never harvest Smoke Trees in an early (stiff) stage, but wait for them to be as fluffy as they can. Plus, the growers try their best to enhance the natural color of them like white or green.
From now on, the supply of Smoke Trees is expected to continue towards the end of June with the variety of "Red Fur" and "Peach Fur" mainly, and some Green types too. Later on, we will be receiving Smoke Trees from Yamagata and Aomori prefectures as the production area goes up to the north of Japan.
Smoke Tree has been recently getting a lot popular overseas especially in other Asian countries.
Please don't miss these early-summer items from JA Ehime-Chuo that are of great quality!
Original Article written by Mr. Ikegami,
Translated and edited by S. Yamamoto