The Balloon flower, which is known as one of the seven flowers of fall, is a very old-fashioned flower with beautiful purple, star-shaped petals. When displayed in a vase, its beauty and splendor far surpass that of other Japanese flowers.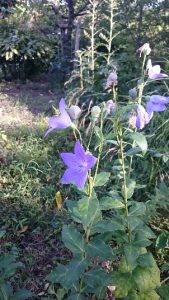 Balloon Flower
Apropos of the Balloon flower, it reminds me of the "Kikyo-mon" Balloon flower family crest. The Balloon flower family crest is widely known as the crest of the Sengoku warlord Akechi Mitsuhide. Also, it is said that the rosary owned by Hosokawa Garasha, the daughter of Mitsuhide who was a Christian, had the crest.
Hosokawa Garasha has a strong image with white lilies such as the Madonna lily, but it also has the image of an elegant Balloon flower from the impression of the rosary and the Hosokawa Balloon flower crest.
The flower language of the Madonna lily is "A clean Heart" and the flower language of the purple Balloon flower is "Graceful", Garasha may have been a woman with that kind of association.
By the way, among the Lisianthus displayed in the central passage of the OTA market last time, there were some single varieties with less petals.
Compared to general Lisianthus, Cecil has a single bloom, so at first glance, it looks like it lacks volume, but the beauty of the single flower is comparable to the Japanese Balloon flower, which is one of the seven flowers of fall.
| | |
| --- | --- |
| | |
|                   Cecil Blue |                    Cecil Pink |
Furthermore, it seems that the shape of the Cecil petals is more like a "Kikyo-mon" than a Balloon flower in Japan.
When it comes to Lisianthus, it has the image of gorgeous Western flowers, but the single bloom varieties including Cecil have an old-fashioned aspect like the Japanese Balloon flower. The greatness of these flowers stands out when displayed in an alcove in a Japanese style room or in a Japanese-style inn.
The single bloom Lisianthus vaguely resembles Lady Garasha's atmosphere.
On a quiet night when only the sound of an insect resonates, why don't you try to feel flowers, like Lady Garasha, close to you by layering its graceful appearance with the pure heart of the White lily?
Written by Masaya Murata
Edited by M. Takahina