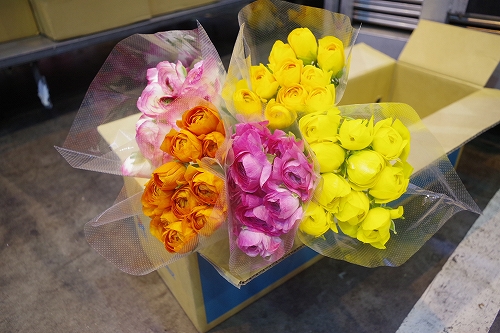 Today we introduce ranunculus produced by Mitoyo Horticultural Center in Kagawa Prefecture.
Mitoyo Horticultural Center is located in the area facing the Seto Inland Sea in Kagawa Prefecture, located about 200 km southwest of Osaka Prefecture and in the northeastern part of Shikoku.
Mitoyo mainly produces original varieties of ranunculus called "Temari" series and "Ryugu" series.
Temari series can be enjoyed at home for a long time because it is harvested at the stage when flower buds are still hard comparing with other varieties. It has 8 varieties such as Koharu, Yuzu, Lemon, Snow and Akane so on. Among them, "Lemon Temari" and "Yuzu Temari" have citrus scents.
Another series – "Ryugu" series have more than 20 varieties, including "Ryugu Karin". It is named after the old Japanese folk story, "Urashima-Taro" set in ​​Mitoyo City. *In the story, fisherman Taro Urashima was guided to the Ryugu Castle on the seabed by a turtle that he helped.Both series are available from mid-November to mid-April.
We recommend you to adopt these varieties into your bouquets and arrangements in this winter season.
Original Article written by Mr. Tada,
Translated and edited by Y. Fuchu