Host:
Grower: Mr. Aoyagi Toshiharu, JA Shin-Hakodate/Tsukigata, Hokkaido
             JA Tozai-Shirakawa, Fukushima-prefecture
             Mr. Oki shinichi, JA Agatsuma, Gunma-prefecture
             Yamaki flower garden, Chiba-prefecture
             Hamamatsu PC GERBERA, Shizuoka-prefecture
             JA Himawari, Aichi-prefecture
Items: Dianthus caryophyllus (Spray), Alstroemeria, Eustoma grandiflorum, Dahlia, Rosa, Helianthus annuus, Gerbera, Gentiana, Ammi majus
We displayed the flowers from growers that satisfied the criteria for Relay Freshnes.
✤What is Relay Freshness?
It is a certificate system that evaluates measures for extending vase-lives of flowers. It lays down the quality control criteria and certifies high quality when the criteria are satisfied.
Even if a grower makes flowers of great quality, it is not possible to "relay" the great flowers to customers without the appropriate control in supply chains like at a wholesale market or a shop.
By this reason, the entire flower industry aims to enhance awareness of extension of flower vase-lives.

↓These are the labels of each section.
Farm section

Market section

Shop/Retail section

✤Points to be evaluated at retailers
In order to evaluated whether flowers are treated in a clean environment, and their quality is appropriately controlled, the following points are checked.
➀Shop ➁Water rinsing ➂Container ➃Workplace ➄Storage ➅Spending days ➆Condition of transport ➇Customer service

The followings are the examples of each criteria.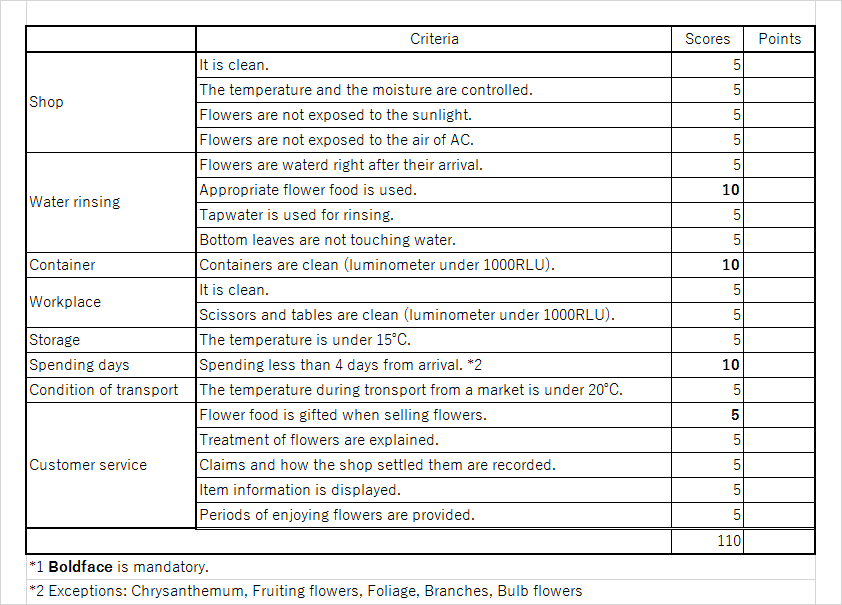 Please find the details on 
.

✤Displayed Items
JA Shin-Hakodate
Dianthus caryophyllus (Spray)
Alstroemeria
Eustoma

JA Himawari
Rosa

Tsukigata Mr. Aoyagi Toshiharu
Ammi majus

JA Agatsuma Mr. Oki Shinji
Gentiana

Yamaki flower garden
Helianthus annuus
JA Tozai-Shirakawa
Dahlia

Hamamatsu PC GERBERA
Gerbera

Translated by S. Yamamoto