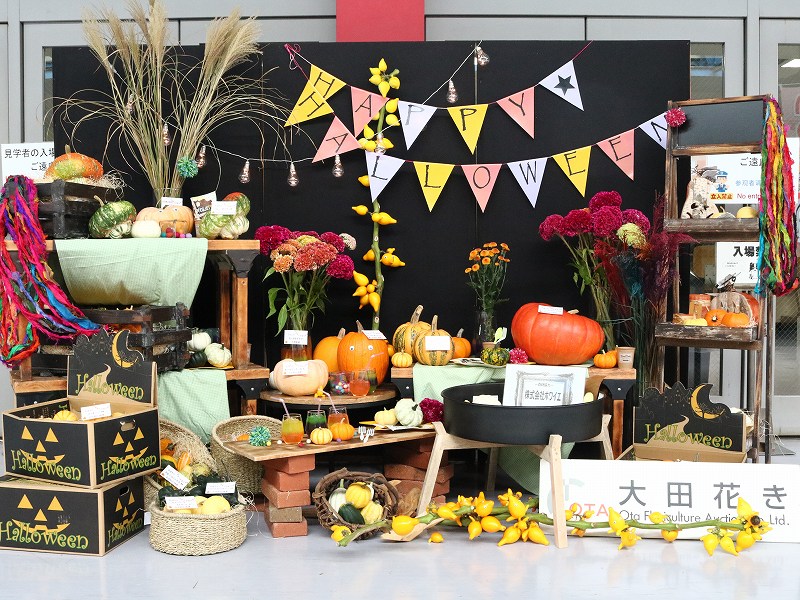 Grower:
Grower's Cooperative of Kita-sorachi, JA Awatoyofusa, JA Aagatsuma-Ryugahana, Mr. Shigeo Ohno, Mr. Soichi Shinkai, Miyabi-Kaen
Item:
Pumpkin, Solanum mammosum, Spray mum, Japanese pampas grass, Panicum virgatum, Celosia argentea, Celastrus orbiculatus, etc.
Material supplier: foyer, EcoJelly
From September 11th to 28th, we displayed special items for coming Halloween festivals. Not only Pumpkin, which comes the first as a Halloween item, we also displayed other autumnal fruiting branches, and even ornamental materials for creating its ambiance.
Halloween as a fall event, is recently very much popular than ever before in Japan.
It is officially on October 31st as everyone knows, though here in Japan it is celebrated commonly from September!
People here seem to enjoy Halloween in many ways like playing in the costume parades, joining in Halloween festivals held in theme parks, or having a home party with friends.
For such parties, interior goods, cute snacks, or other ornaments to make a good atmosphere are being popular.
So this year, we made a display at our market with the concept of "Glamping de Halloween party." ☺♫♫♪
Furthermore, we held our seasonal event "Pumpkin Auction" on September 24th. It was the 22nd time as of this year.
During the Pumpkin Auction, disguising trending people is an annual event so for this year, one of the latest Japanese comedians Hyokkorihan, and the tennis player Naomi Osaka showed up.
Literally at the Pumpkin Auction, various pumpkins were auctioned including the tiny little pumpkins called Omocha-Kabocha that can fit in your hand, and the big pumpkins that are so hard to lift up even for large men.
You can watch the time-lapse of the Pumpkin Auction on our Instagram.

Please check it out!
✼✼✼Items offered✼✼✼
-From Grower's Cooperative of Kita-sorachi 北空知広域連 
✼Omocha-Kabocha<Approx. 10-15 cm in diameter>✼
✼Middle – Large <Approx. 20-40 cm in diameter>✼
✼Large <Approx. 25-30 cm in diameter>✼
-Bouffier(white/red label)
-Branches, Flowers, and Flowering Plants of fall 
We hope you will enjoy Halloween in your way and be grateful for the good harvest of fall♪♪♪
Interpreted by S. Yamamoto