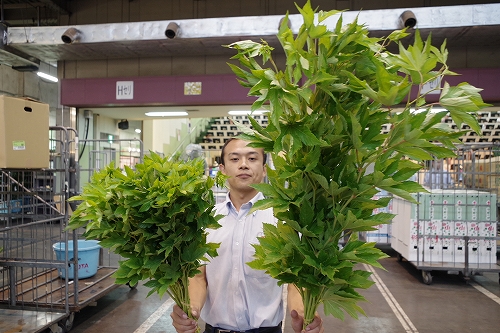 Today we will introduce Rubus cut branches and the "Baby Hands" from Hokkaido. 
Rubus cut branches from Hokkaido are characterized by a smooth-textured leaf surface compared with the ones from other places. The "Baby Hands" is originated from and a registered variety in Hokkaido as mutant varieties of native species, and is now also produced in Miyazaki and Kagawa prefectures.  
 "Baby Hands" from Hokkaido has shorter internodes than native species with small and bright yellowish green leaves. The small and fresh–colored  young-look leaves are just as cute as baby hands! 
Rubus is cultivated at JA Kita Ishikari, JA Sapporo East Keizai Center, JA Sapporo West Keizai Center, and "Baby Hands" is at JA Kitaishikari, JA Kitasorachi and KitanoJunjo Club until autumn when leaves turn to red and yellow in November. High quality produces can be expected this year, thanks to good weather and good control of pests. 
Original Article written by Mr. Orikasa,
Translated and edited by R. Kato