Thoroughwort, one of the "Japan's seven flowers of fall (see below)", has been arriving at OTA flower market since last month.
Although it may not be a gorgeous flower, Thoroughwort is worth feasting your eyes on by its beautiful serrated leaves in rich green, and the reddish-brown stems, with the entire upward shape.
Thoroughwort can be fully enjoyed by itself in a vase, though it is also well-known for its excellent scent that is reminiscent of an old cherry blossom. You can enjoy Thoroughwort therefore both as a fresh cut flower and as a dried flower.
Speaking of the scents of Cherry blossom or Sakura, they actually can be categorized into two types: One is the fruity scent like berries, peaches, or cherries. The other is the similar scent to "Sakura-mochi", a Japanese sweet which is a red rice cake wrapped in a salt-pickled Oshima-sakura's leaf. (This leaf gives off the Sakura fragrance.)
Dried Thoroughwort gives off this scent just as blooming cherry blossoms from an ancient city. In fact, this scent is said to have been loved by Japanese people since the Heian period (about 1,000 years ago).
If you dry Thoroughwort from late August until early September, you can enjoy the wonderful scent of Sakura throughout the fall season.
There are some signs that dried flowers will be trending among young females and many flower shops are now selling dried flowers in Japan.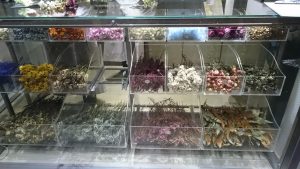 In the herb family, there are some species pretty suitable to be dried or potpourri, which brings you a scent just like Thoroughwort.
Why not keep your eyes on the new trend of dried flowers?
Japan's seven flowers of fall
Bush clover
(Japanese clovers)

Japanese pampas grass

Kudzu
(Japanese arrowroot)

Pink dianthus

Golden lace
(Patrinia scabiosifolia)

Thoroughwort

Balloon flower
These flowers are the representative of the fall season. Their names firstly appeared in the Man'yoshu, the oldest existing edited collection of Japanese poetry.
Original article written by Mr. Masaya Murata